[vc_row][vc_column][vc_column_text]Most RVs are pretty cookie cutter. They come with standard furnishings and fixtures that don't push the envelope design-wise. It makes sense. They're mass produced and not custom built. But that doesn't mean you can't customize your RV. It also doesn't mean you need to spend a lot of money or hire a professional. From adding LED lighting to discovering the wonders of peel and stick wallpaper and flooring, here are sixDIY projects to help you personalize your RV. Finally, whatever you add, just make sure you don't add too much weight to your RV. You still have to haul it at the end of the day, and frames were only built to hold so much weight!
1. ADD LED LIGHTING
LED lighting was on every kids' wish list last year. But it should also be on your radar if you're looking for a different ambiance in your RV. Just invest in a few strings of lights. They come in every color, and they also come with timers and dimmer switches. It can also be beneficial to switch to LED lighting from a cost and efficiency perspective. LED lights use 75 percent less energy than incandescent lights. In other words, give your RV battery a break. The Popup Princess, who switched to LED lighting back in 2015, has a great guide covering the process. The hardest part is removing the incandescent lighting. But even that only takes a few minutes.
2. TRY NO-SEW REUPHOLSTERY
Whether you're not a fan of your couch cushions or your headboard color, there's an easy fix: no sew reupholster. When Jo-Anna Rooney got her 2004 Forest River Rockwood camper she knew she wanted to be looking at other fabrics. She just had one problem: she didn't sew. Fortunately, she found a way to reupholster everything using a staple gun, hard board and the fabrics of her choosing. It only cost a few hundred dollars, too! Rooney has a great no-sew reupholster guide showing the before and after photos of her camper as well as the exact steps she took.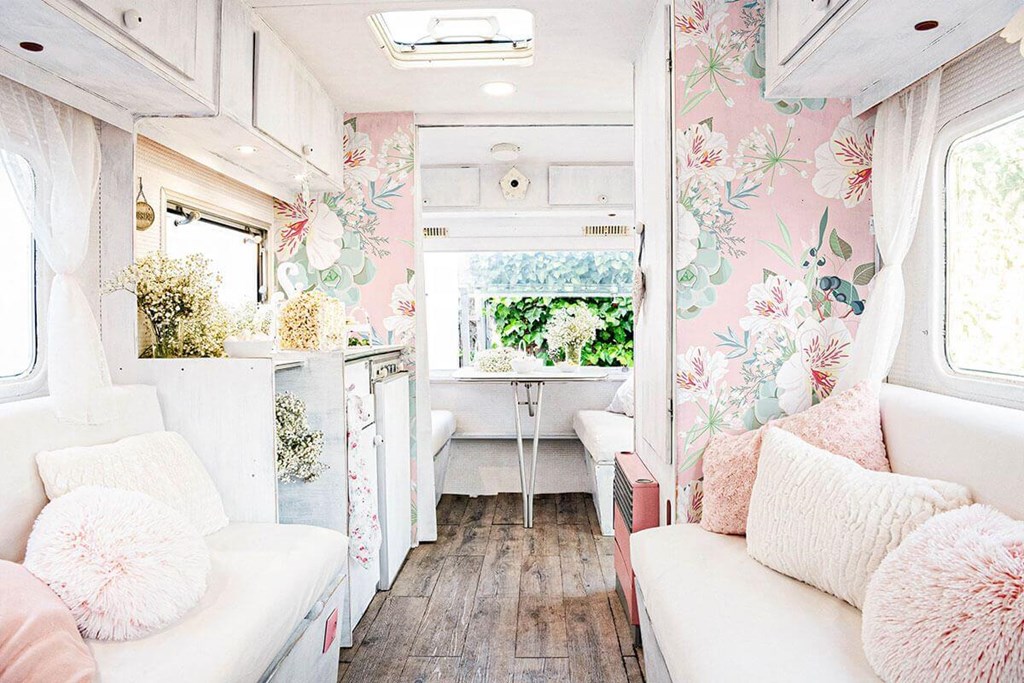 Walls by Me
3. PUT UP WALLPAPER OR WALL DECALS
Forget your mom's messy wallpaper. Today's wallpaper options include peel-and-stick styles that don't look cheap or have toxic chemicals. Walls By Me has a handy article detailing how to pick the perfect wallpaper for any RV space. Of course, one of the benefits of using peel-and-stick wallpaper is that it's easy to remove, so you can swap it out if you get tired of looking at it. Just plan on spending a lot of time looking at a lot of options. There's everything from a plethora of patters to textured and woven wallpaper and plenty of faux stone and wood finishes that look surprisingly real.
4. INSTALL NEW FLOORING
Disclaimer: install here refers to peel-and-stick as well. If you plan on putting in new high-quality flooring in your RV it's best to consult an expert. However, if you're OK with the peel-and-stick route, check out the tiles and wood flooring you can get without spending a lot of money. Colorful Designer used white vinyl peel-and-stick planks to replace her camper's dirty carpet and has zero regrets. The benefit of using vinyl is that it's easy to cut for tight corners. Note: this project can be quite time-consuming if you have to remove carpet, so account for that when budgeting your time.
5. PAINT AN ACCENT WALL
All you have to do is turn on HGTV to see the difference a good accent wall makes. But did you know you can have one in your home on wheels, too? Rich, the founder of Trek with Us, actually painted an accent alcove in his camper to make it feel more like him. It wasn't his first time painting in his RV. The first time he made a mistake by not using gripper. The paint peeled right off their wood veneer wall! "I'll say this again," writes Rich. "Use Gripper Primer and Sealer on any vinyl or wood veneer wall, period." And if you're not totally in love with the results when you're finished – because accent walls can be alarming at first. Give it a few days. You may change your mind as it grows on you and the compliments come trickling in.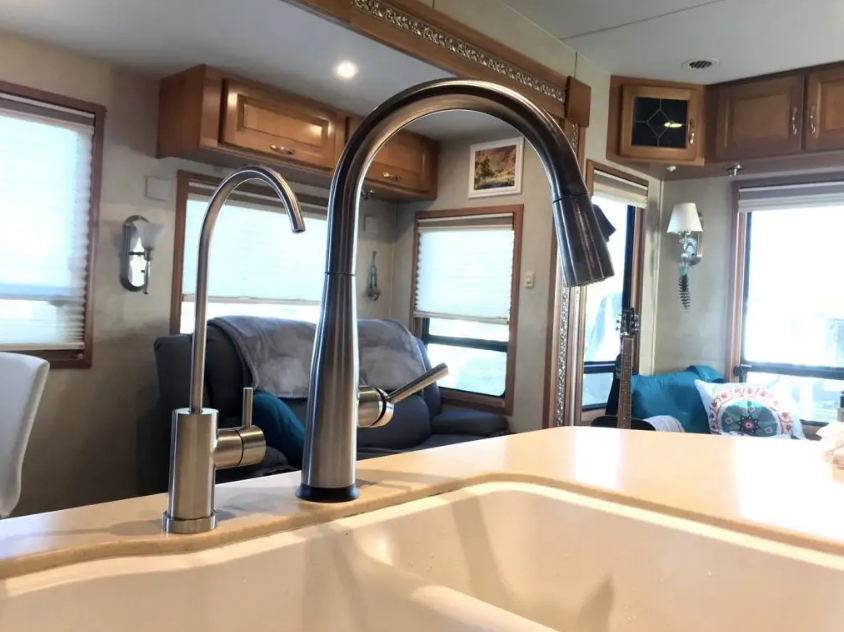 Mortons on the Move
6. REPLACE YOUR FAUCETS
RV faucets are notoriously cheap and well, for lack of a better word, RV-looking. If your RV is your home and you consider yourself a chef, not a cook, why not treat it to a real faucet that your RV kitchen can be proud of? After all, you use your faucet a lot and it's a high touch point fixture. It's also a simple upgrade. Tom and Caitlin Morton, co-stars of PBS' "RVers" are big fans of replacing RV faucets with real faucets. They just stress two things. First, make sure the real faucet you buy is compatible with the RV's connection. You may need to buy an adapter if it's not. Second, make sure you disconnect your water source before doing the swap!
Article Courtesy of: https://koa.com/blog/diy-projects-to-personalize-your-rv/[/vc_column_text][/vc_column][/vc_row]